There are idiots in the world. I know; I've seen them; they're often on Wheel of Fortune.
It was tonight's edition where it happened that I lost faith in the human race- not that I had found it prior to tonight, but you get the point.
The category was "Song/Artist" – meaning that there would be the song title and the artist that made the song famous, i.e. a pop smash known around the world. First I'll set up the situation, and then follow with the response. Ok? Here we go: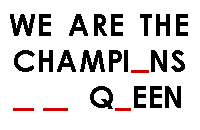 "Pat, I'd like to buy a… 'U'."
…
…
A "U?!" She bought a "U?!"
At first I thought she was just greedy and spinning to get more dough. "Ok," I said, she's in it for the cash. Then she bought the "I." Now I'm thinking, as impossible as it seems, she doesn't know the song or the band. That's sad enough as it is. Then she went and bought the "U".
OF COURSE THERE IS A U!! THERE CAN ONLY BE A U!! WHERE THERE IS A Q, A U WILL SOON FOLLOW!!!
It gets better; after she chose an "F" and got buzzed out the next moron bought the "O." Was there any doubt? Is it possible it could have been "CHAMPIZNS" or "CHAMPILNS?"
The fact that "BY" was totally overlooked in a category marked "Song/Artist" just screams duh!
Now to add to the intelligence black hole forming… it was NFL week. You know, where pro football players "help" the contestants. You would think that one of them would know "We Are The [bloody fucking] Champions" by Queen! It's only played over and over again at every major and minor sporting event in the world!
But no.
Your honor, I reserve the right to re-examine Wheel of Fortune at a later date.
Posted: January 8, 2004
/
Last Updated January 8, 2004