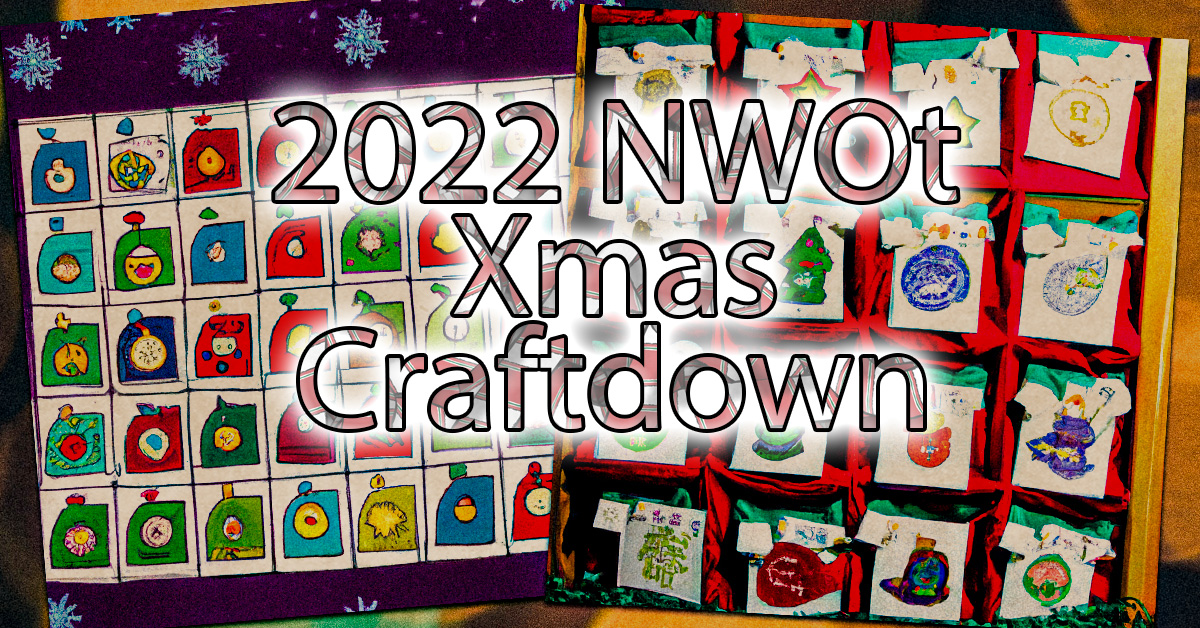 2022 NWOt Christmas Craftdown
'Allo 'allo, 'allo… what's this then? A new Yuletide post? A Christmas miracle! Nope it's the 2022 NWOt Christmas Craftdown!
Yes, I'm back. I tried to make this a yearly thing, but 2021's list fell down an icy crevasse whilst saving the holidays from a Yeti. Soda coolers are ruthless, lemme tell ya!
For those new here, this is a listicle of handmade or small business made holiday themed gifts I pulled from Etsy. It started with Advent Calendars, then added stocking stuffers to the mix. None of the items are sponsored, so none have any affiliate link component to them. I've got no skin in the game; I just think they're neat!
As of these are handmade / limited quantity things – so they may not be available by the time you click their links… but check out the creators' other stuff, 'cause small business, crafters and creators rock!
And with that caveat said, check out some previous lists (2016, 2017, 2018, 2019, 2020) for more ideas.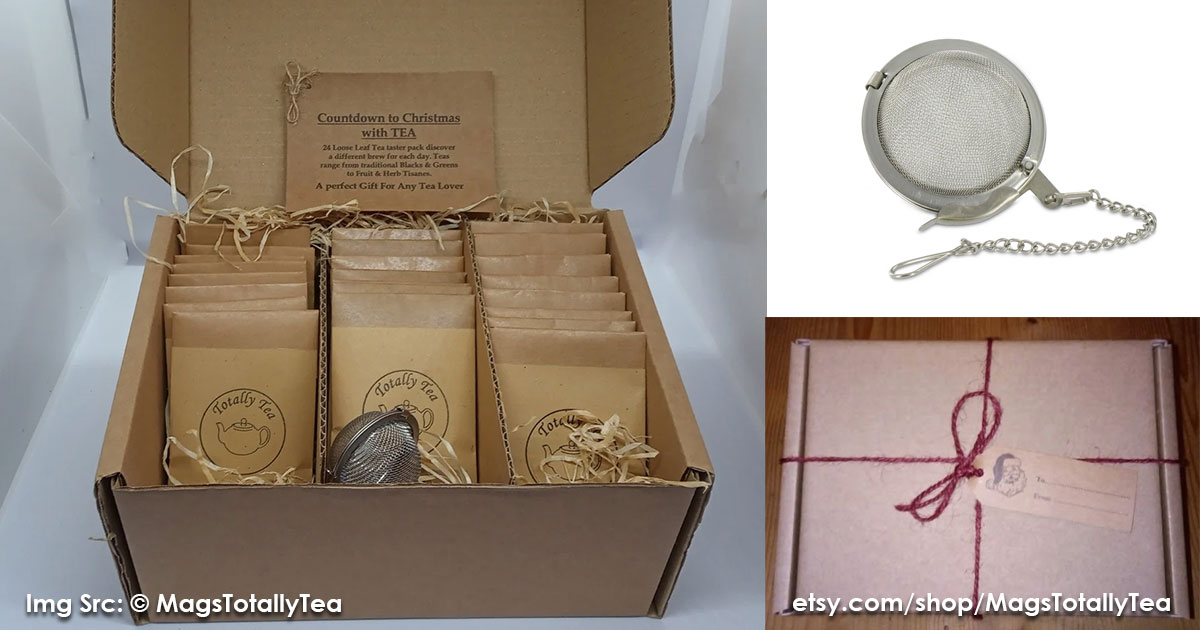 I'm starting out this year with a previous neat thing – MagsTotallyTea's 24 Teas sampler. Begin each day of December with a new brew, or save them all up and make a mega-pot for Christmas morning! (not medical advice) There's also a caffeine free option for those who've become jittery enough as it is over the last couple of years. Includes a couple of reusable tea bags and a teeth straightener…err.. tea strainer.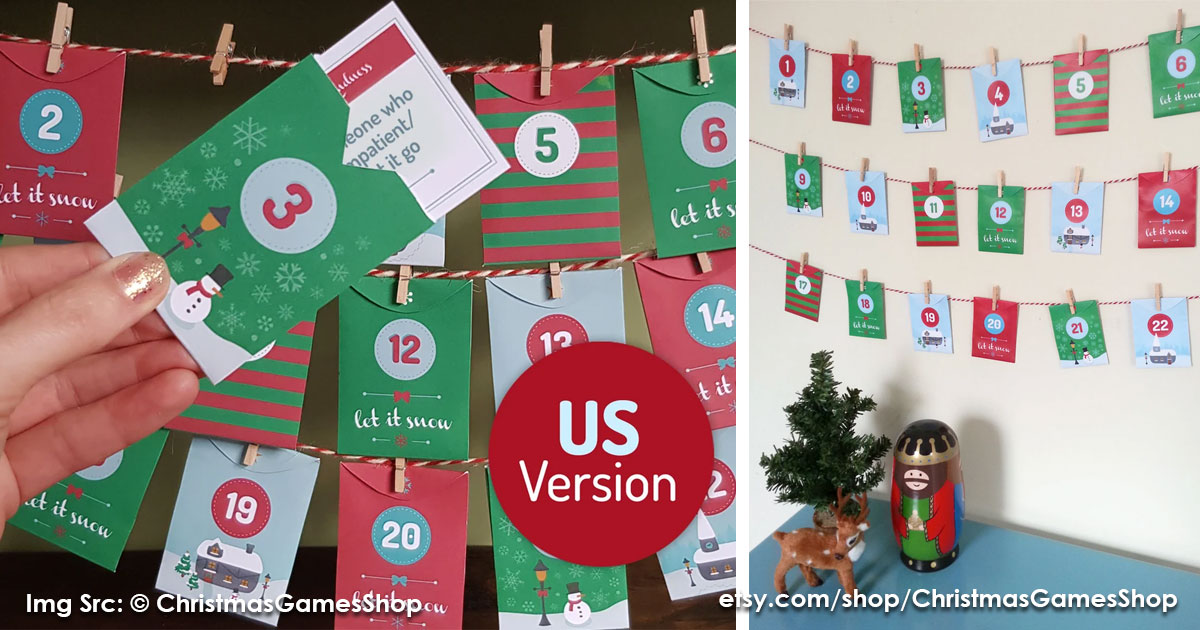 Another previous favorite (don't worry I'm coming up with new stuff) is The ChristmasGamesShop (formerly Faffy Tea) printable 24 Good Deed Cards. And geez do we need some good deeds going these days!
"Each day has a little foldable envelope which fits one of 24 daily "Random Acts of Kindness" or Good Deed task cards

This is the US version of the calendar with US words and language (and for Letter sized paper/stock 8.5 x 11″).

***We also have a UK version available in our shop!***

Cards include:

Make an effort to smile at everybody
Write an uplifting note and leave it somewhere for a stranger to find
Anonymously pay for someone behind you in line

Print, cut and stick the envelopes together, add a card for each day, and then string up or stick them on your wall."

– From the listing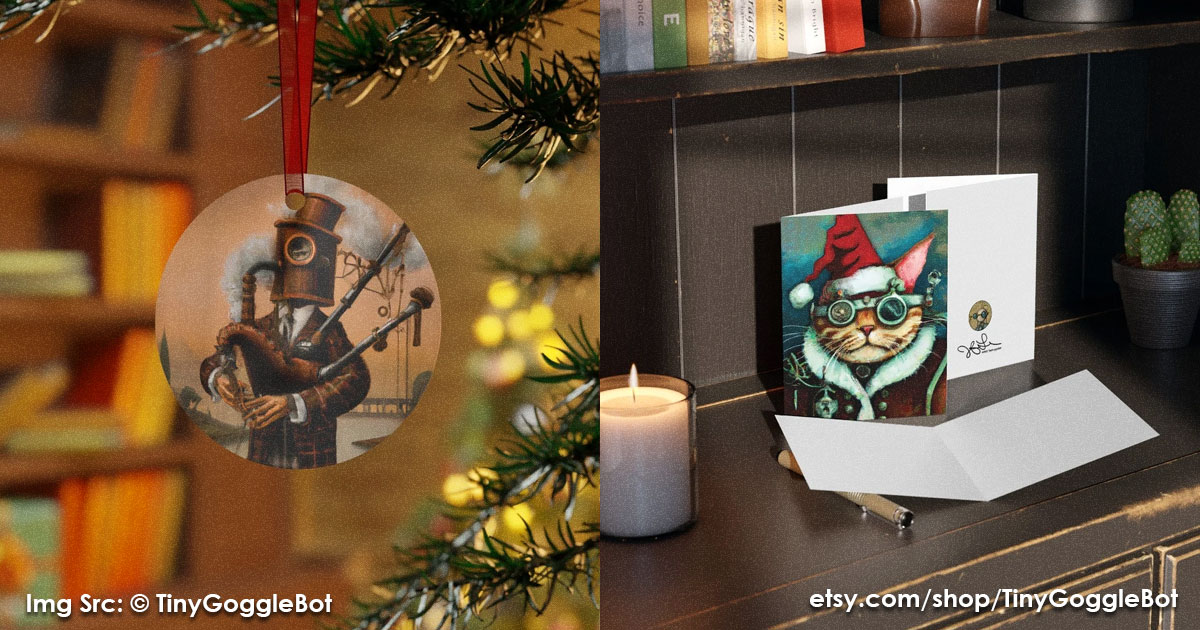 So for this one I'm singling out the Scottish Robot Bagpiper Metal Christmas Ornamen from TinyGoggleBot's shop, just because it's a Scottish robot bagpiper. But that's not all to their assortment. Whimsical tableaus of mechanical folk on metal tree ornaments; Cyborg Santa's; steampunk cats & dogs in their Victorian best.
Great for a sci-fi fan's stocking stuffer… or just maybe overhauling the entire Christmas Tree's vibes with one of everything. Your choice.
It's a retrofuture winter wonderland!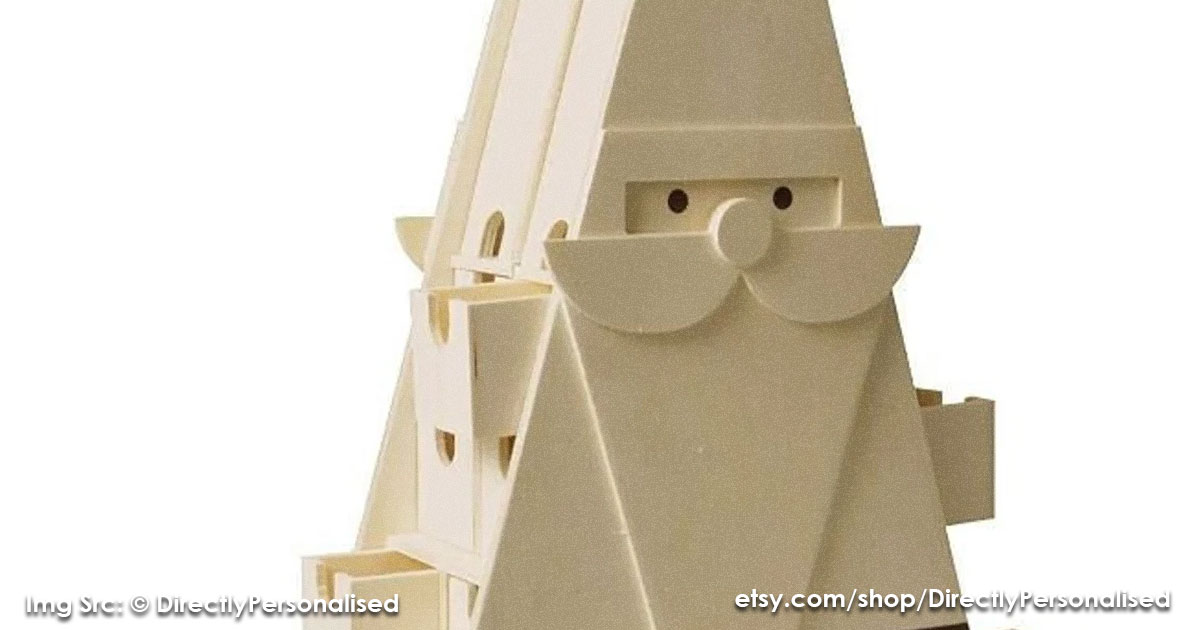 Check out this cute, minimalist woodwork by DirectlyPersonalised. This sleek Santa has 20 little drawers and 4 flaps built in so you can supply your own daily surprise up until the big day when the real Kringle will take over from there.
It's made in plain wood, and ready to decorate however you'd like – creating a nice heriloom for the future.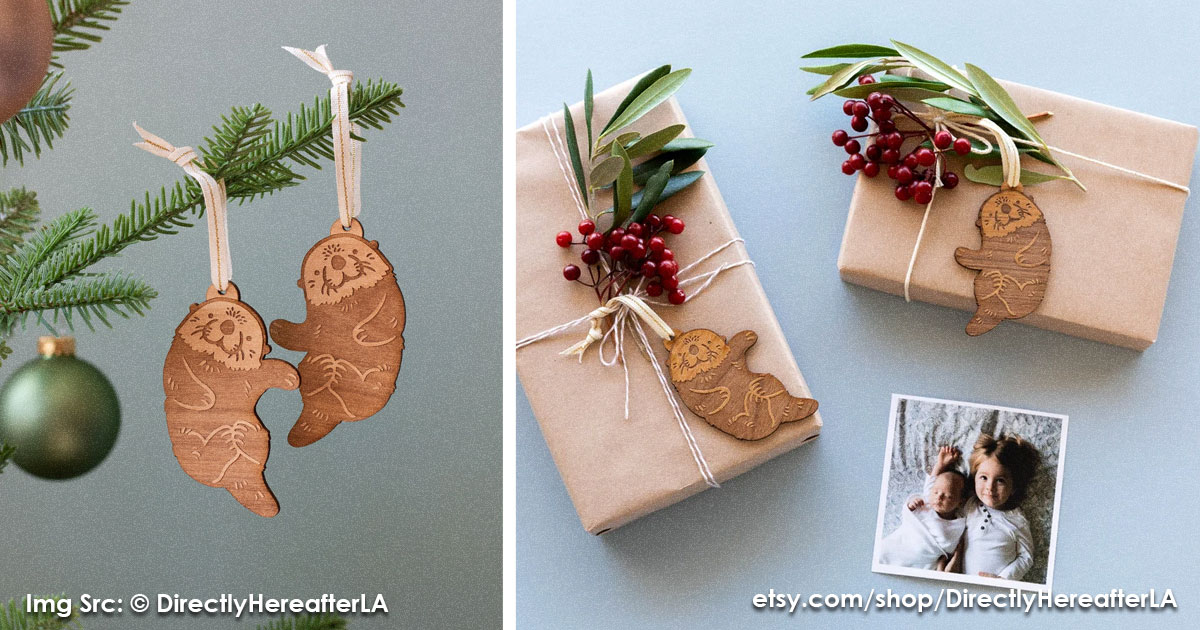 Lookit! It's frickin' otters! How am I not gonna add frickin' otters to the list? Look at the site you're on right now!
Anyway, shop HereafterLA offers these 4" laser cut wood otter ornaments / gift tags, with the ability to customize a message on the back.
These hand-holding otters are not only cute as a button, but also carry a special symbolism. Otters hold hands when they sleep so they don't drift apart from each other, a perfect fun fact to share with your loved one as an adorable reminder of your sacred bond.

– From their listing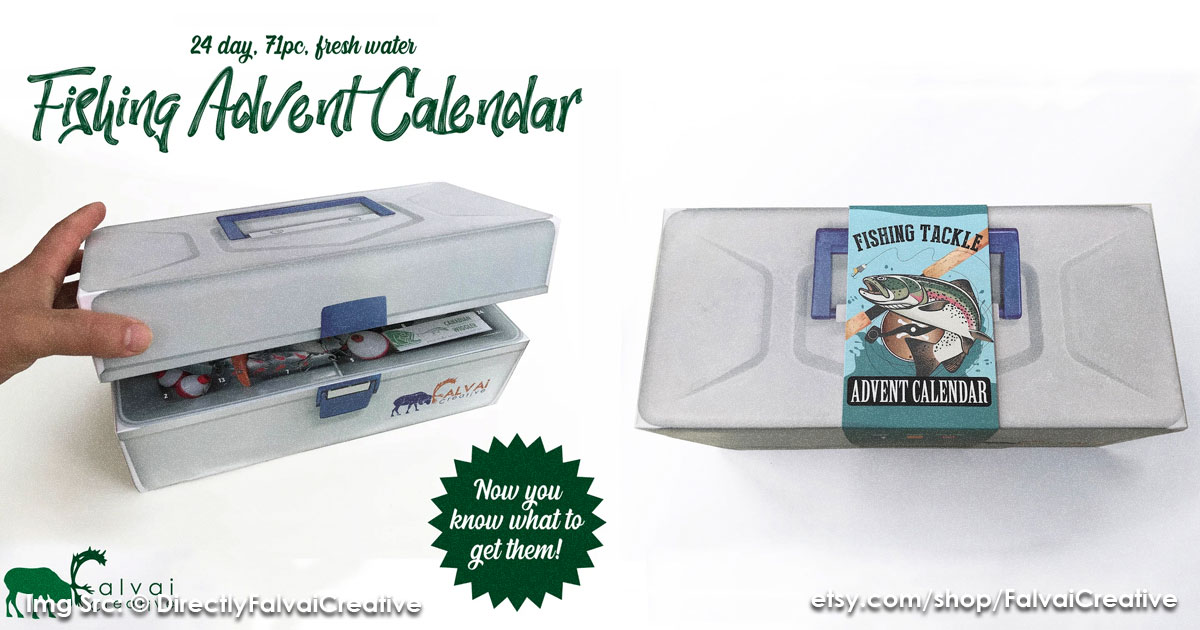 Got an angler in your life? Wanna get them out of your hair 24 mornings in a row so you can get things ready for Santa? Then this advent calendar from FalvaiCreative is for you.
"I have put more than 100 hours of design into this calendar. I have designed the calendar to open just like a traditional tack box. I made it as an exact replica of my childhood tackle box which I filled with very special antique lures I recently inherited from my Father in law in Saskatchewan…

This Calendar is filled with sharp hooks!!! Not intended for small children. Supervision is required. Remember to follow your local fishing regulations and please recycle."

– From Their Listing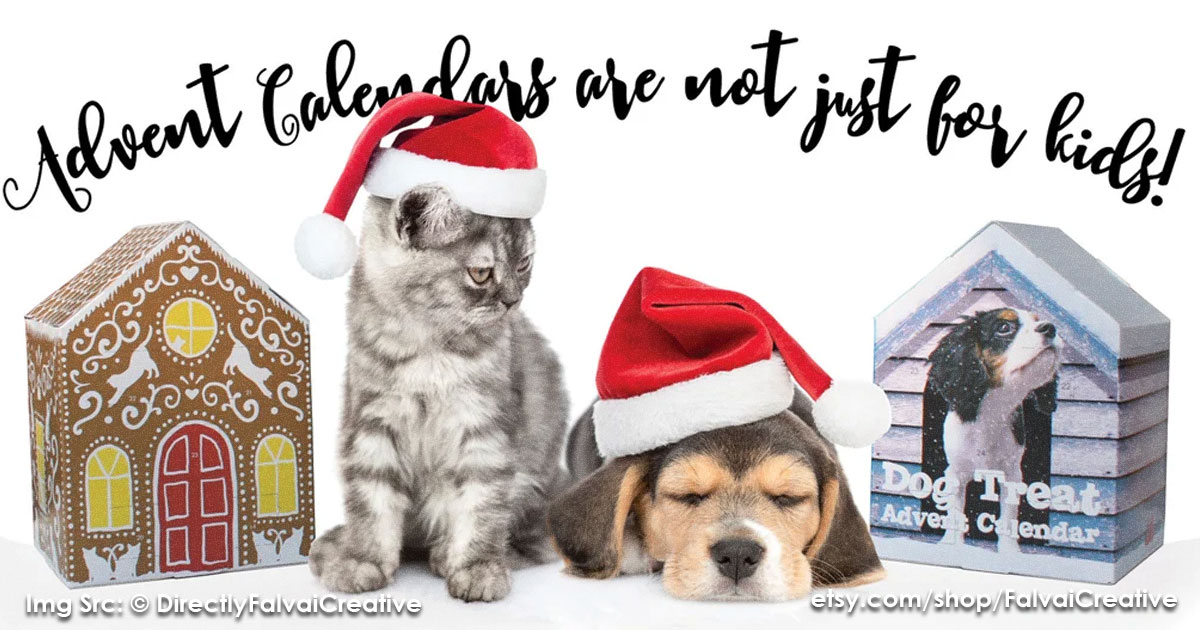 So I'm giving FalvaiCreative a rare second listing because they also have calendars for the fur babies. #adventcalendarsarentjustforkids leads off the entries, and are available for both cats and dogs. Everyday your boon companion is blessed with a natural freeze dried meat treat, and on the last day gets a toy!
Why should the non-human kids miss out on this yearly tradition?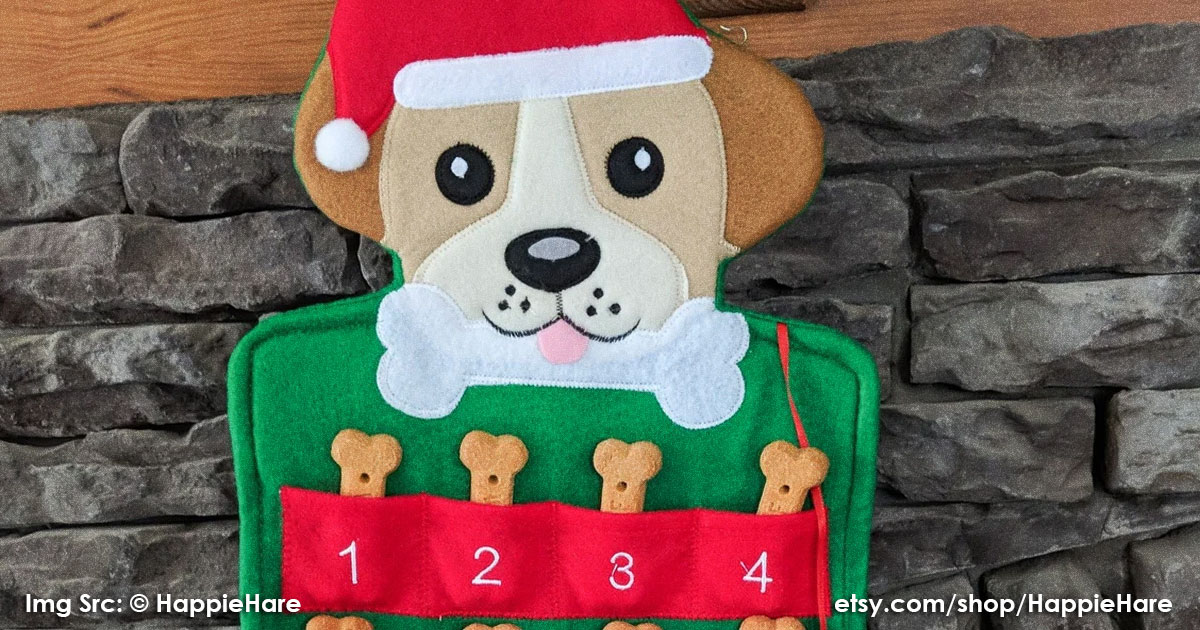 While we're on the subject of our furry friends' festive favors, I went in search to see who else catered to the k9 and kitty christmas calendar cabal… surprisingly not much. But, HappieHare here has come through with a felt scroll style advent calendar. It's made with a cute puppy and 24 pockets that can be stuffed with treats.There's a couple of different dog breeds available, a kitty, and also a 9 pocketed puppy hanukkah one with a menorah design.
Best part, they're reusable. So now you won't be finding little cardboard doors all over the place for weeks afterwards.
He sees you when you're sleeping ya know. That's really not the fairest way to pass judgment on someone's naughty-or-nice-itude… but giftgiving justice is a cold business. Luckily if you get these lumps of coal, it's still only your mind that's dirty – because it's soap!
Shop SEAandCLEAN is selling charcoal soap in the form of every kid's second worst Christmas nightmare – lumps of coal. Socks and underwear are the first.
These come in a cotton sack with a picture of the kringle mocking you with a naughty sign.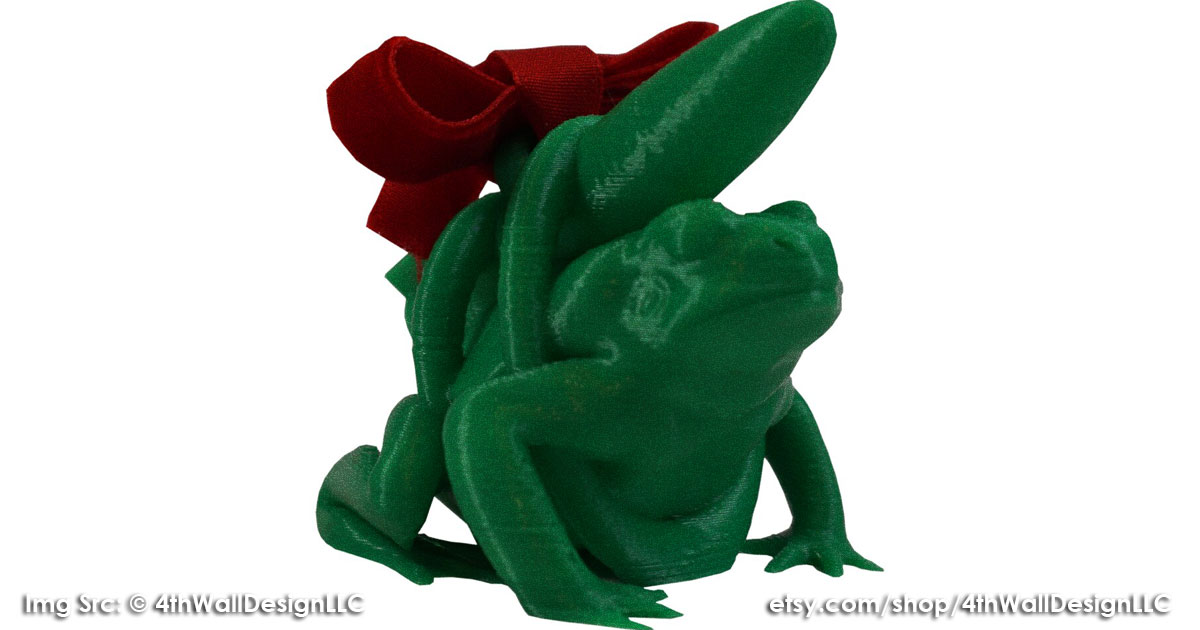 And finally on the list – Number 10. What, you thought I'd do 12, like the twelve days of christmas or somthin'. Psssh, that'd be too predictable. Plus I'm tired, I haven't written anything in over a year and my hunt-and-peckers are tired…
…that didn't sound right…
Anyway, here's a missile toad. A MISSILE TOAD! 4thWallDesignLLC is making Christmas ornaments of a toad with a missile strapped to its back.
I mean, come on. That is the best out of left field Christmas pun ever.
I can't do any better!
Wrap Up
Well, that does it for the 2022 NWOt Christmas Craftdown.
Let's remember folks that these are small businesses, crafters and makers. They aren't Amazon. They aren't workshop elves. These things take time, especially any customized stuff. So if you do shop small, don't expect it overnight. Read the dang listings -learn their timeframes; specifics, like measurements; and what and what isn't included.
Use your heads and be civil, cause these are actual people you're buying from. Merry Everything this year, and hopefully there'll be another one of these next year.
Even more hopefully, I'll get on the stick and resurrect this whole razzafrazen website. Christmas miracles, New Years resolutions and all that jazz.
Bonus
I know it may still be too early for Christmas music. But if you want to slowly get into the spirt – then microdose carols with lofi geek's Youtube page and their Lofi Christmas Radio:
Here's the channel link if the stream is not running by the time you read this. They've got some other good lofi streams to chek out as well.
And furthermore
Oh by the way… I've got Christmas merch with my other persona – RML Studios
It's my Yulelife collection. Have a look if you're so inclined 🙂
…
…
…
Missletoad… MISSILE TOAD!!!!!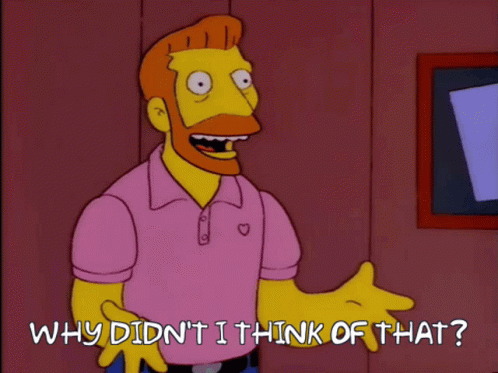 Posted: November 11, 2022
/
Last Updated April 6, 2023