Well, we all know that C.E.O.s want more greenery in their office, whether it be the almighty dollar or just a nifty little putting space in corner. But, in honor of Earth Day, let's talk about non-decadent green – environmentally correct office products!
Here's just a small smattering of what's out there:
Pentel's RSVP pens and holder:
Probably the most obvious attempt to get your mind into the three R's (say it with me, "reduce, reuse and recycle") they got pens in an industrial trash bin. Branded with the trademarked term Recyclology, the science of the aforementioned green mantra, the bin comes with 7 pens, most in colors you can actually use… and actually write decently! They've pledged their Recyclology products are made from 50% recycled material, save the ink and the inner workings.
It's a good effort on the pens, but the bin itself, where good intended, leaves a bit to be desired. It is only 35% recycled material and painted take-me-to-your-landfill-green rather than the universally recognized BLUE recycle bins and bags. So, just buy the one and REUSE it.
Still, the bin is a good accessory for your generic hero action figure when he needs to take out brand name villains!
Now if Papermate made those bins I'd scoff less. They've got biodegradable writing utensils.
Papermate's Biodegradables line.
Both pens and mechanical pencils are offered in this line – and they have become my ballpoint of choice… not necessarily for the green aspect, but because they feel good writing with (not a ballpoint fan am I). But enough of the pen bit, the plastics bit is the focus for this post.
The body is constructed of Mirel plastic, which is made from corn. Yes, corn. No, it doesn't mean they taste the part when you chew on them; it means they're compostable. Again though, the innards and rubber grip are not… so close! Soy ink maybe?
And I would totally back Mirel's horse if their website wasn't suffering from Apache and socket errors. Maybe it's just offline for Earth Day?
Finally in this world-saving trifecta is the Terracycle company.
On last year's Earth Day, the National Geograhic channel profiled this company in a show called "Garbage Moguls" and what they do is they come up with products that are produced with reused stuff.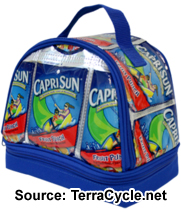 For example, a teacher in my town has partnered with them (the TerraCycle Brigade) to collect Capri-Sun pouches and Doritos bags from her school's lunch period. At least twice a week she comes in to my copy center with a couple of 10-20lb boxes full of these discards, all with prepaid UPS shipping. TWENTY pounds of flattened Capri-Sun pouches!
Terracyle takes these pouches, makes things with them like bookbags, sells said things, then gives the school a kickback for it.
Some of the green office products (you know, to keep with the original concept of this post) include the used circuit board clipboard, pencils made from old newspapers, and cork boards made from, get this, corks!
Saving the environment, saving our schools and living the capitalist dream all in one fell swoop – Terracyle gets this years NWOt Earth Day Leader Award that we just created this very sentence!
Posted: April 22, 2010
/
Last Updated April 22, 2010