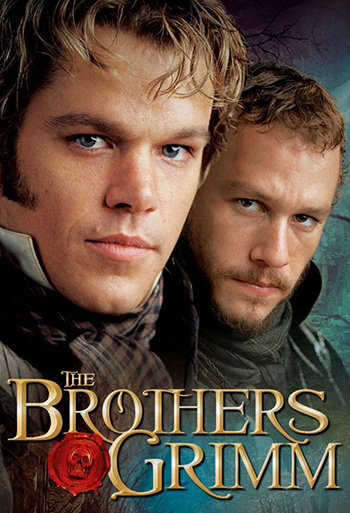 Monty Python Does European Fables
Terry Gilliam of Monty Python makes yet another unique movie in The Brothers Grimm. Heath Ledger and Matt Damon wander the country side of Napoleon dominated Europe "ridding" small towns of their "ghosts" and "witches." It just turns out to be a coincidence that all these creatures they vanquish happen to be based on the old fables they've chronicled for years. And it also just turns out to be a coincidence that these monsters are, in fact, two cohorts working with the brother to defraud these towns of their riches… oh yeah, I guess that wouldn't exactly make much of a coincidence, huh?
Anyhow, they meet their match after the French capture them, and at the threat of death, are forced to flush out what seems to be an uprising in the back woods of Germany. From there on in, it's no longer a cute little scam artist toying with french loot, they have to face a very real super natural fable that seeks to ruin the whole continent… well, more so than what the endless wars of Napoleon did, anyway… yeah.
Ratings and Rantings
Gilliam yet again takes his knowledge of cartooning and movie making and combines them with good special effects, good actors, and a good script. The movie may keep you guessing as to whats going on, or for that matter which well known fair tale this actually is, but it never fails to entertain. Humor and action live harmoniously together in The Brothers Grimm and thus, boredom never makes an appearance. Overall, I'll give it a 5 out of 6.
Posted: September 29, 2005
/
Last Updated September 29, 2005