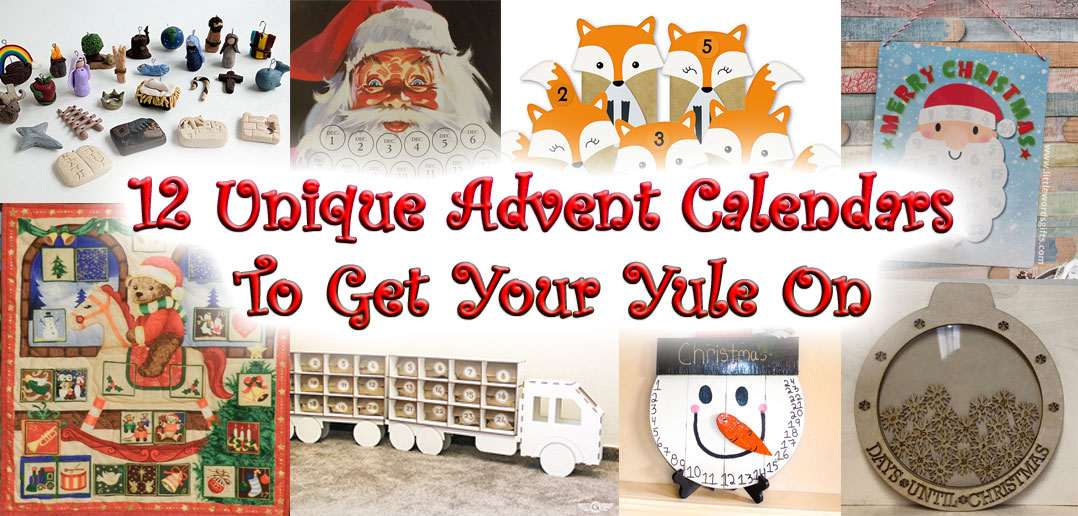 12 Unique Advent Calendars To Get Your Yule On
Welcome back!
#7 is a DIY kit coming from Germany. Papierdrachen by Silberfaedchen's setup yields 24 cute paper-bag foxes, giving a little something to die Kinder to keep them busy till the big day. She's also got owls, or a variety pack of woodland creatures. Und Stickeren!
Functionality is built into this "calendar" from Grantus Souvenirs. Once the Christmas morn wrapping paper storm is over, you've got built in storage! Ships from Lithuania. Also dig the laser-etched-wood coasters with the zodiac signs interpreted in Eastern European folk art.
If robots are you thing, then La Maison Du Calendrier has a literal robot dispenser! 24 brightly colored numbered boxed adorned with drawings of classic wind-up robots fit in a wall mounted sleeve so that they can be dispersed one day at time in the lead up to Christmas day. Ships from France.
Also coming from France, and also in theme of mini gift boxes is French Melody's polar bears. The consists of 25 polar bear boxes of varying sizes that you'd put the daily candies or whatnots. The difference here is these are downloadable… where as all the others probably won't arrive before new years at this point, these can be printed and assembled in the comfort of you own home.
No, I said your home would comfortable, not the assembly. It's Christmas, some assembly is always required.
Ashley R Creations out of Oklahoma has a rustic Christmas countdown calendar:
Advent calendars are a time honored tradition that allows you to count the days down to Christmas. Start a new family tradition with this re imagined advent calendar. This snowman has the classic top hat, coal eyes, and a carrot nose but his face is embellished with hand painted numbers. The nose actually moves! This means each day you and your children can tweak the snowman's nose into position taking you one step closer to the most wonderful holiday of the year!
Up until now, a bunch of the advent calendars have had a getting component to them. Well, Perfect Parcels in the U.K. has the opposite. The wood and clear acrylic display comes with 25 snowflake tokens that get dropped in each day and are
A magical way for your children to countdown until Christmas adding the numbered shapes to the drop box from highest to lowest reflecting on how many sleeps they have left
Those depositable tokens will definitely teach kids the true meaning of Christmas – don't loose any of the small bits that come in the box because it may not work right!
I mean giving! Yeah, that's it… giving….
Well, that's it for this listicle. Might be too late now, but it's never too early to plan for 2017. Unless it's 2018, then forget it.
Merry Christmas.
Posted: December 1, 2016
/
Last Updated December 1, 2016