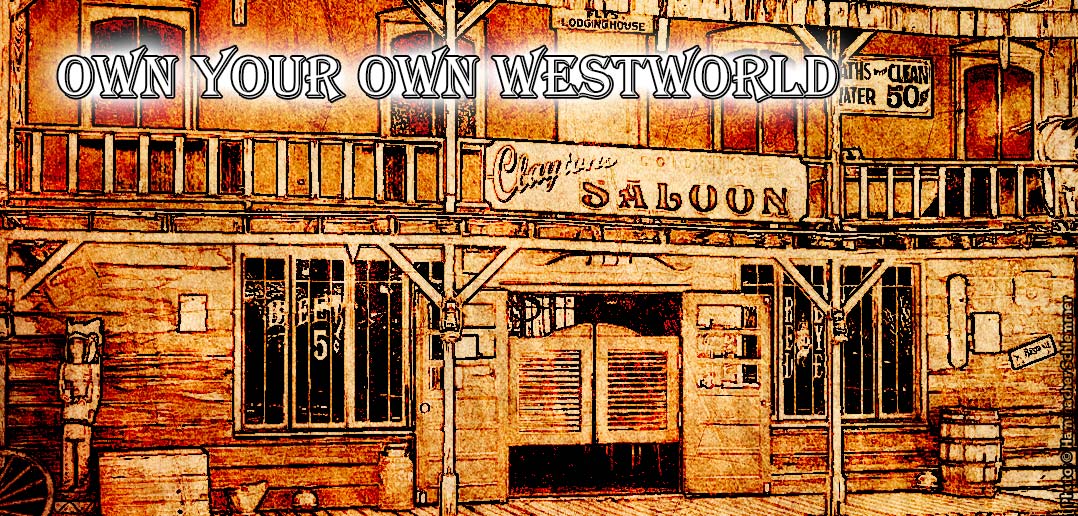 You Too Can Own Your Own Westworld
Christmas is coming… And, invariably, the question arises, "What do you get someone who has everything?" Or, "What do you get the person who didn't tell me what they want?"
Or, more to the point, "I have $7mil to blow, whaddya got?"
Well, have I got a deal for you. Rather, Hammacher Schlemmer does. But of course they do. They don't claim to "Offer the best, the Only and the Unexpected for 168 years," for nothing.
And I've got to say, this one looks like they've been sitting on it since 1848!
This is the fully operational town that pays homage to the Old West with 23 acres of sarsaparilla- and sagebrush-themed amusements. Built in northwestern Illinois in 1979, Donley's Wild West Town includes 14 buildings with two residences, offices, a warehouse, museum, restaurant, convention hall, and a commercial kitchen.
Yes, you too can own you very own miniature mock municipality for the low, low price of a small private jet.
Rides included are a steam-locomotive, a silver-mine themed roller coaster (lookout Doc!), and the prerequisite Merry-Go-Round. Also included is a museum with all sorts of wild west artifacts.
"Special conditions and guarantee limitations apply."
I would imagine so, I doubt there's a warehouse full of these (though if there were, that'd be the buried lead here).
They go on to suggest that you can put on a myriad of live shows from cattle roping demonstrations to gunfights. Sadly, the actors are not included. But to heck with that, a few pages down you can buy them (but of course you can).
Hammacher Schlemmer's got robots. Famous robots. Robby the Robot to be exact ($32,000), star of the classic Forbidden Planet and countless kitschy cameos. Rebuilt from the original plans and molds, Robby or Robbies can populate your town till the cavalry comes. He is, after all, programed not to harm humans – what's the worst that can happen.
Besides, who said you HAD to keep totally with the wild west theme?
Once you're done putting on your one-horse town version of the Tempest, head on down to the saloon now tended by The Robotic Bartender ($25,000)! This semi-conductored suds-slinger boasts a 600-beverage database… but I betcha it ain't got no sassparilly. *spittoon*
Feeling a tad strapped for the holidays, well HS got you covered too!
Set up the spirit of the Wild West under your Christmas tree with the The Steam Spouting Ride On Train Set, and The Sharpshooter's Pop Up Gallery. I mean, woo! Right?!
Yeah, that doesn't sound so thrilling to me either now. If you excuse me, I've got to go win the lotto.


(We've got a guide on how to do just that.)
Oh hey! After spending all morning writing these jokes, I find that the place is currently up and running and open for business. I guess when they say fully operational, they mean fully operational! Al little more emphasis on that would be a great selling point.
Here's more in-depth video of what's to do there:
Here's there (or you know your's if end up you buying 'em) Website / Facebook
Posted: November 29, 2016
/
Last Updated November 29, 2016