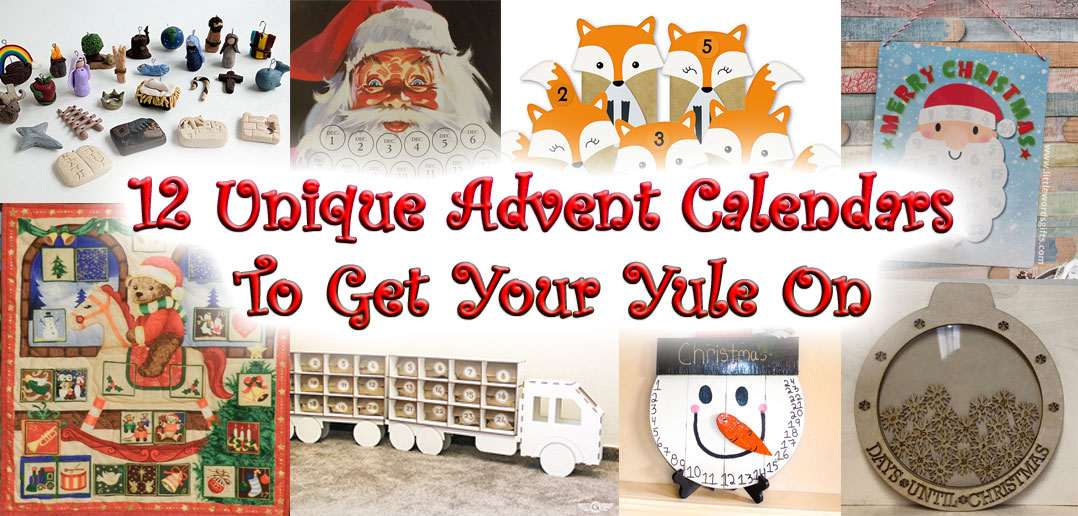 12 Unique Advent Calendars To Get Your Yule On
The countdown to Christmas is on! If you anything like me, it came out of the clear blue like a granny-seeking reindeer. I hope you've got your advent calendars in place to help keep you on track.
If not, or if you looking for something more than 25 mildly perforated printed windows, here's 12 unique, crafty-type-folk made advent calendars to help you get your yule on (in no particular order):

Here we've got a cute Santa printed on an aluminum plaque. But, closer inspection reveals numbers in ole Saint Nick's beard! It's a calendar. Each day you'd affix a cotton ball or pom-pom till his beard full. By that time the real Santa's beard would be full of cookie crumbs, as he'd be come and gone by #25. You have your choice of sayings – 'Merry Christmas', 'We Believe' or 'Happy Holidays.' It's produced by LittleWordsGifts.com, and comes from the U.K.
This one caught my eye because it reminded me of one of my first (memorable) Advent calendar's from the 80s. Back then 7-Up put out a yearly collectible poster with the same concept (like the one to the right). By Christmas day the surrounding wall would be full or errant Elmer's Glue and whisps of cotton. DinosaurDracula.com has a great write-up on these retro promo items.
In the same vein as number 1, we have another Santa face with a modular beard. This one however is already fuzzy. From the description:
Santa Claus advent calendar 14 1/2″ wide x 17 1/2″ tall. Made of durable felt. Stuffed candy cane is attached to the calendar with a string.

Create a new holiday tradition with your children. See the delight in their eyes as you and your kids count down the days while they wait for Jolly Ole St Nick. beard has pockets for the stuffed candy cane. or use bite sized candy or candy kisses in each pocket.
This one is done by Karen's Krafts, and is made in the USA. There's a ton of other Christmas goodies in her shop as well.
Rounding up our Santa contingent in this countdown is the calendar from crafter Felt Like it (heh). Underneath our Clause's countenance are 24 slots, built for 24 for candy canes. There's also a penguin and a snowman available, in case you've got too many Santa's already (no such thing!).
Brighter Side Fabrics – has hand stitched more traditional advent calendars. On this Dickensian toyroom scene are 24 patches acting like pockets to fill with goodies.
Coming 'round to the reason for the season – woodworker Sensory Play has a candelabrum in the shape of Mary & Joseph's journey to Bethlehem (holy family and/or 3 wise men sold separately). Every night, gather the family around a light a candle till you come to the Christmas Star.
From The Bashful Daisy's description:
The Jesse Tree Story …

Birthed in an age of illiteracy when few individuals owned personal copies of the Holy Scriptures, the Jesse Tree, like other examples of church art, was used to portray Biblical concepts.

Before it appeared in other art forms, the Jesse Tree, based on Isaiah 11:1, illustrated Christ's genealogy on the pages of 11th century psalters and altar Bibles. As time passed, artists added the prophets and Biblical heroes to the family tree as Jesus' spiritual ancestors.

Today, the Jesse Tree has found renewed popularity. With an ornament and Scripture reading for each day of December, it vividly highlights God's hand throughout the Old Testament as He made way for the coming Messiah.
---
On the next page, things go a little more off the beaten path with picks 7-12.
Posted: December 1, 2016
/
Last Updated December 1, 2016