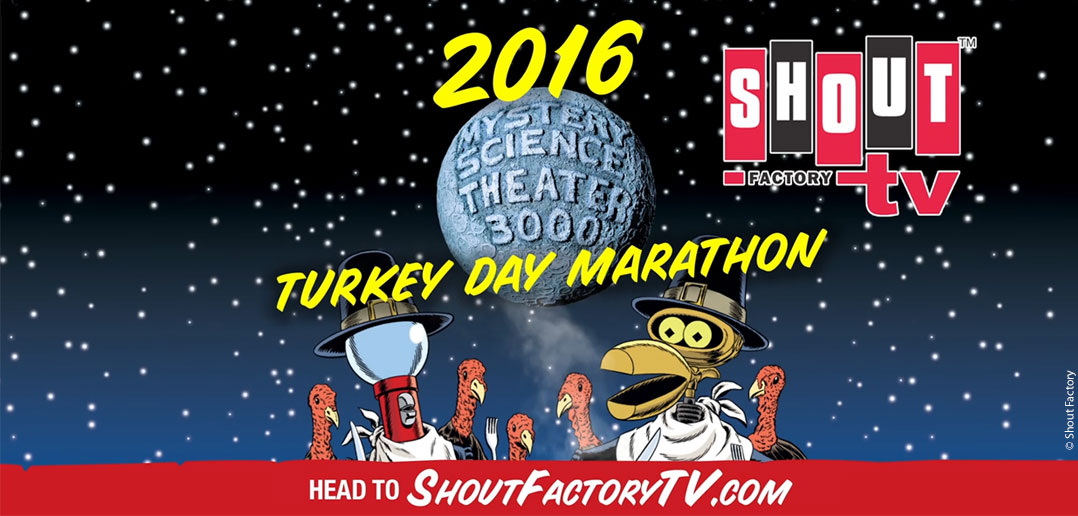 A Tradition Returns: The MST3K Turkey Day Marathon
Tired of parades, dog shows, football, and crazy aunt Sally's diatribes? Then a great tradition returns just in time. It's the Mystery Science Theater Turkey Day Marathon!
t's time to talk turkey—cinematic turkey, that is! Shout! Factory continues its revival of the beloved MST-ie Thanksgiving tradition with a newly curated Mystery Science Theater 3000 Turkey Day Marathon on Shout! Factory TV, hosted by show creator Joel Hodgson and Season 11 host Jonah Ray.

Starting at 9 am PT / 12 pm ET on Thursday, November 24th, the marathon will feature six timeless episodes taken from the recent fan survey of the 100 Most Popular Classic MST3K Episodes, as well as brand-new episode intros.
Don't bother look towards Comedy Central or Sci-fi Network, it's all online this year. Beam it to your Television via your preferred steaming device and download the Pluto.TV app (which is nifty for other things as well).
Here is your litany of pertinent links:
Shout! Factory TV – the good folk putting on this soiree.
PlutoTV – a guide on how and where to get this up and running in your home.
The L.A. Times Article – how I found out about this, plus an Interview With Joel Hodgson and Jonah Ray.
Mystery Science Theater 3000 premiered some 28 Thanksgivings ago (cripes!).
P.S. I like the parades and dog shows.
Posted: November 24, 2016
/
Last Updated November 24, 2016