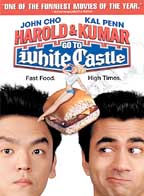 Harold and Kumar Go To White Castle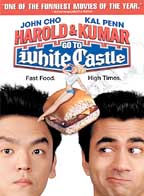 High Times and Highlights
John Cho (American Pie series) and Kal Penn (National Lampoon's Van Wilder) return as two stoners in search of the American Dream and hamburgers. Kal Penn is Kumar, a slacker hippy type that's avoiding med school in pursuit of a good time. John Cho is Harold a corporate slave and uptight closet smoker seeking the Spanish chick down the hall and perhaps some peace and quiet.
After a hard day they decide to light up, laugh at obnoxious anti-drug commercials and chill… until of course the munchies arise. Then they set out on a quest all over New Jersey in pursuit of what they crave: White Castle and lots of it.
Ratings and Rantings
Seldom does one find a comedy with so clearly a dumb name but so many laughs to be had. Truly every single skit in every scene of the movie was over loaded with comedy. Here's to future sequels: Harry and Kumar get a 6.
Posted: February 24, 2005
/
Last Updated February 24, 2005