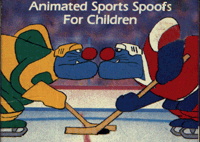 Sports cartoons were a series of short animations featuring animals playing a wide variety of sports, hockey and pro-wrestling to curling and tennis. More often than not, they featured an annoying blue cat trying to irk the heck out of a hippo or pig. However, the hippo never seemed to let the cat get the best of him (or her, or it, or whatever).
The shorts were a regular feature of Nickelodeon (a cable network catering to children) during the 80's and early 90's. They would play randomly during commercial breaks throughout the day, and even into Nick-At-Night.

They were created by the duo of Derek Lamb and Janet Perlman under the Lamb-Perlman Productions banner (oddly enough). One of the couple's latest projects include Penguins Behind Bars, which was featured on Cartoon Network's Adult Swim in 2003.
Sports Cartoons were obviously Canadian (well obvious now to those who notice). They were drawn in that Nation Film Board of Canada style, similar to Bob and Margaret (co-animated by Perlman) and the cartoons featured on Cartoon Network's Oh! Canada… however Sports Cartoons were much better.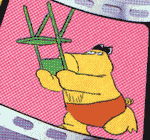 Sports Cartoons have a good "do it again" quality to them. That is to say if you're stuck with a kid who tends to watch the same thing over and over (i.e. "do it again"), these aren't so bad. And it's good for the kid, because behind the cute exterior and funny gags, there is a sense of fair play and sportsmanship (depicted by the blue cat's ass being handed to him every time).
And even if you are not stuck with a kid, these are still fun to watch. However, that is if you can find them.
The Sports Cartoons series was released on VHS by Family Home Entertainment back in 1985. It is unknown at this time who has the distribution rights, but I'll keep working on that.
Posted: October 19, 2003
/
Last Updated October 19, 2003