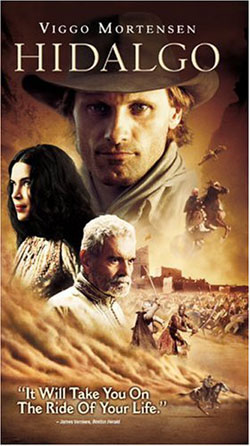 Breakdown and Breaking Balls
A Western that takes place in the Middle East?! What the HELL?! But it's true my friends, all too true. No, seriously.
It's based on the autobiography of Frank Hopkins. Speaking of whom, he's played by Viggo Mortensen, and does a myriad of things throughout this film. He's a scout at the beginning just before massacre at Wounded Knee, then goes on to be a regular in Bill Cody's Wild West shows. While there, he insults Omar Sharif (who plays Sheik Riyadh), and is challenged to take his mustang and race against all the pure bread Arabians (these are horses, not people or cars) in a race that crosses from one end of the Middle East to the other.
In the midst of it all there's corruption, cheating, kidnappings and lots of gun and sword play. All in all, a good 2 hrs spent.
Rantings and Ratings
This is one of the best movies I've seen in a while. Yes, it is definitely a film for people who know horses, but for those of use who aren't as lucky, there's plenty of the universal language of violence to make up for not knowing why an Arabian horse id better than a Mustang horse. Hidalgo, you earned yourself a 6 out of 6.
Posted: December 22, 2004
/
Last Updated December 22, 2004