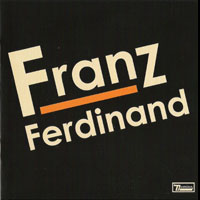 Franz Ferdinand – Franz Ferdinand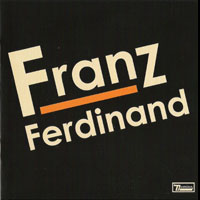 When a new band comes out you hate to compare it to other music; it tends to take something away by giving the impression that the new band is not so new. Well, the following does not imply that Franz Ferdinand is the same old thing (far from it): This group's is the new Talking Heads! It's the rebirth of Art Rock.
Franz Ferdinand the group and album is, for the most part, a breath of fresh air. Just as one could at best label the Talking Heads as eclectic rock, that's the best you can pin on Franz Ferdinand. No categories, just great music.
I first got exposed to Franz Ferdinand channel surfing and stumbled across the video for track three – Take Me Out. The song starts out as a twangy little number but soon changes tempo and mood in to a beat driven monster. Coupled with the Dada-istic nightmare of the music video staring animated pictures from 1920's mail order catalogs…
I needed more.
The album starts out with the disarming song Jacqueline, which seems to be slow paced love song at first. However, just as Take Me Out and indeed just about all their songs (hard to pull off), the mood changes. You may recognize the riff from the 2004 MLB playoff commercials.
Tell Her Tonight is some unique blend of funk and psychedelic surf rock and some interesting lyrics about obsession that I think we all can relate to.
Next comes The Dark of the Matinee, which has a pleasant commercial-hit air to it. It must be the catchy chorus and off beat cadence in the lyrics.
Anyway, it's hard to come up with enough adjectives to compliment each song. I've had the album for a month and I'm still trying to analyze the songs. Needless to say each track is a stand out. Despite their own ways about them they all mesh into a great album.
The videos are artistic masterpieces in their own right. And I mean artistic – Take Me Out with its dada roots (as I mentioned); This Fire a hysteria-induced constructionist (propaganda) feel; and Dark of the Matinee a surreal bit of fancy.
Not bad for a couple of pals from Scotland deciding to make some tunes.
Look out for Franz Ferdinand. Like they're namesake whose death sparked change in the political world, this band's success will change the musical world forever. (How's that for poignant?) I just hope they stay together better than The Talking Heads did.
If you couldn't guess the pure praise rather than critical review of above, the album itself gets highest marks – <strong>10 out of 10 on the arbitrary scale.</strong>
Now for other minor bits:
<b>Headphonability</b>, or how well it fairs strapped to your skull,
is a 5 out of 6. The album has it share of big beats and loud riffs, but it's not going to blow out your eardrums. It loses a point because there's not much more to the songs than what comes from the stereo (i.e. no inaudible undertones or subtleties). Some times it's cool to catch stuff you've never heard after 300 times listening an album.
<b>Travelicity</b>, or is it good on a road trip? It is indeed. As I had said many songs will switch tempo and moods, but in this case it has no bearing on momentum. Franz Ferdinand will keep your pace constant and get you where you need to go.
<b>Replayability</b>, or how many time you can listen to it before it becomes a clay pigeon – another 5 out of 6, unfortunately. Some songs will get older than others forcing you to hit the fast-forward. But the bulk of the album is so good it'll keep with you and haunt you in your sleep.
Posted: November 3, 2004
/
Last Updated November 3, 2004