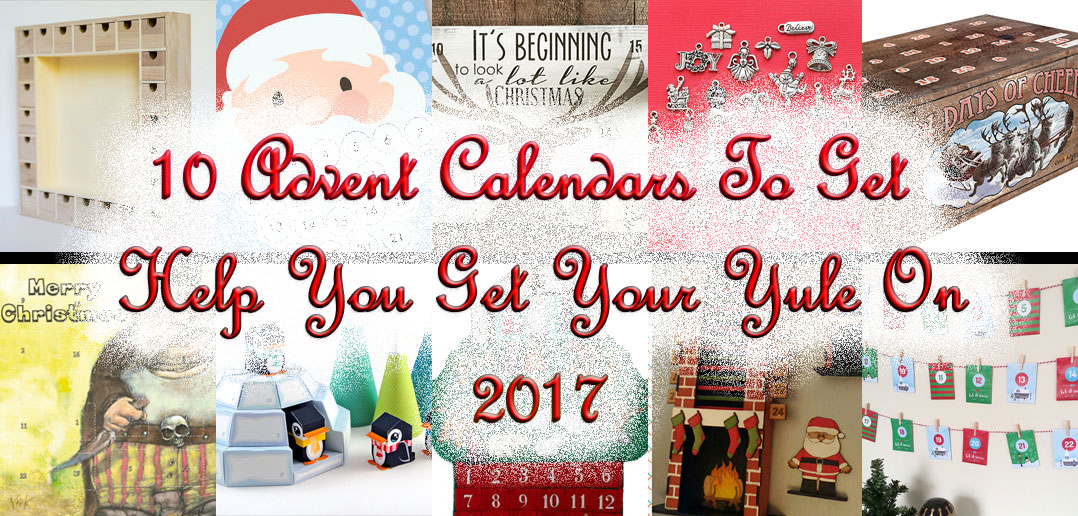 10 Advent Calendars To Help Get Your Yule On – 2017
Last year I made a list of 12 Unique Advent Calendars To Get Your Yule On. In the effort to make an ongoing tradition (only took 15 years to do so) I'm making another, with some amendments:
Doing 10 instead of 12. Don't want to seem too ambitious and defy the internet norms.
Doing it with a month-ish to spare so if you do decide to order an Advent calendar, it doesn't come during Lent.
With that said – to the sleigh Randol… er, Rudolph! In no particular favoritism:
Let's start this Craft Down with just that – crafting. Yours to be exact. Etsy shop Knollwoodlane offers an unfinished, wooden Advent box so you and yours can create something special for years to come.
Each Advent Calendar box comes with 24 drawers and is sturdy, real unfinished wood construction ready to paint, stain or cover with paper. Use your imagination and any embellishments & trim that you may have to make it your own work of art!
Ships worldwide from United States
From TicTacTogs comes the classic Santa's beard calendar. Last year I mentioned why I like these, harkoning back to those 7-Up posters you'd get from… somewhere? Dinosaur Dracula went deep on the nostalgia in his article 7UP's Countdown to Christmas Posters!.
This one is a PDF download so you'll have to print it yourself, or visit your local reprographic specialist (print shop).
FreestyleMom has a rustic wooden peg board painted with a reindeer and "It's beginning to look a lot like Christmas." 24 hooks allow you to hang daily an ornament or some other holiday accouterments.
This shop has a number of other Christmas decor, like the honorable mention of "Merry Christmas Ya Filthy Animal," the classic line from that classic non-existent mobster movie "Angels With Even Filthier Souls."
Don't have anything to hang on the previous Advent calendar? Well that's where BohemianFindings comes in. Though technically not a handicraft, these are the next best thing – raw materials. And 25 holiday themed baubles would look good hung progressively on your reindeer.
BEER! Well, the promise of beer anyway. CraftAdventBox makes a faux crate with 24 slots to fill with your or your recipient's favorite craft brew (not included).
Prepare to give this year's best gift and to be the envy of the neighborhood. This calendar is designed to hold standard 12 oz bottles and cans. A sturdy two-piece advent calendar with a vintage whiskey crate design. The mural shows Santa flying through the snow with his trusty reindeer.
On the next page I give you picks 6-10.
Posted: November 3, 2017
/
Last Updated November 3, 2017