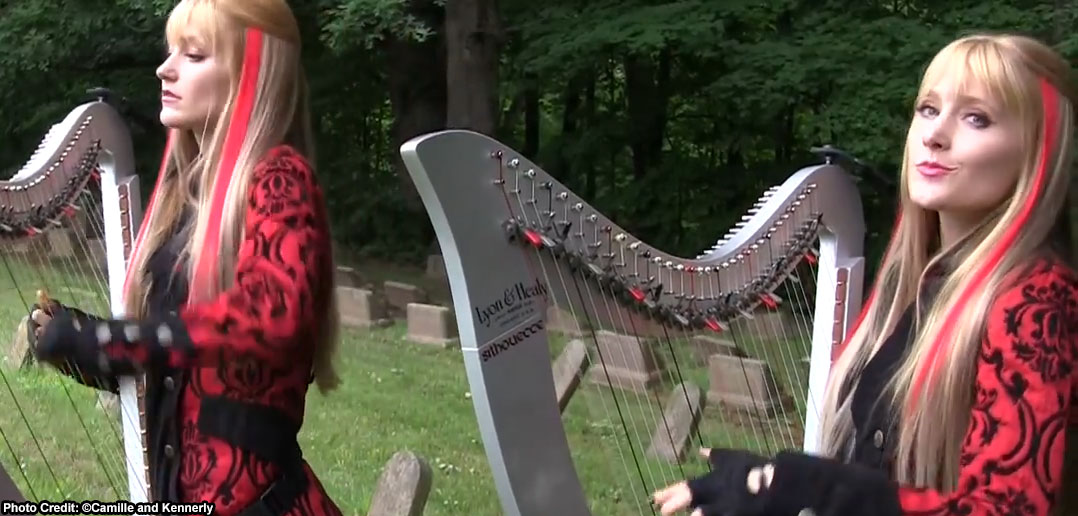 IRON MAIDEN – The Trooper ( Harp Twins) Camille and Kennerly HARP METAL
Iron Maiden's The Trooper, from 1983's Piece of Mind, has always been the go to song about dying during the Crimean War. It's iconic riffs have become the earworms of a generation or two of metal heads; a few notes and you instantly know what your listening to – beginning, middle or end. Being such a catchy tune, of course there are going to be covers…
The duo of Camille and Kennerly, aka the Harp Twins, have taken this song and have given it a Classical twist. It's a music arrangement that would undoubtedly soothe the ears of any fallen cavalryman from the 1850's. And if you didn't know any better (or even if you did), you'd probably add it your Christmas playlist.
But this isn't the first time the harp twins have taken on Iron Maiden – or metal in general. Megadeth and Metallica amongst are the metal mix. In fact, their YouTube page runs the gamut of covers: from the obvious Pachelbel's Cannon in D, to 80s staples, to My Little Pony. Fans of classical music and neat stuff alike should head over and take a listen.
Of course, this isn't the first time The Trooper's gotten the string section treatment… the duo 2Cellos gave it a more Tchaikovsky-eque treatment back in 2014 (skip to :53 for that music to start):
You can find the Harp Twins all over the swath of social media – Youtube | Facebook | Website. So charge ye into the valley of the Interwebs and support them.
Posted: November 20, 2016
/
Last Updated November 20, 2016