Well I guess it's time for me to weigh in on the whole Super Bowel Half Time controversy that's going around. I must say, I was shocked and/or appalled by this incident. Not at the time of it's happening. Nay I was lulled into a stupor by the tediousness of the show, and didn't see Janet's boob, much like everyone else in America. Admit it, you all missed it too.
And I'm not shocked and/or appalled by the boob either. I'm angrier about all the boobs talking about it the next day. Fines here, lambastings there… and all about Janet's breast. Not a word about any of the actual atrocities committed during the show.
Where are the stones at Nelly and P. Diddy? Nelly sang that old American standard, "Hot In Herre." First off, the title promotes misspelling. Second, the lyrics involved are grade A suggestive.
"I was like, good gracious ass bodacious
Flirtatcious, tryin to show faces
Lookin for the right time to shoot my steam (you know) …

… Cuz I feel like bustin loose and I feel like touchin you
And cant nobody stop the juice so baby tell me whats the use …

… Its gettin hot in here (so hot)
So take off all your clothes …" etc.
Before that, P. Diddy arrived and sang a ditty, then did his spin on "Hey Mickey." This is a crime in 2 ways: first, desecrating the spirit of the 80's by butchering that song. Second, by putting that inane crap back into the collected consciousness of America! We were almost Mickey free!!!!
Where are the stones cast at those friggin back-up dancers? They rambled around the stage like clockwork prostitutes! Don't tell me gyrating hips and grinding crotches are a standard greeting now. Actually, please do tell me that.
Where are the stones cast at the CBS execs that let their bastard son MTV produce a halftime show in the first place? You knew no good could come of it… you knew!!!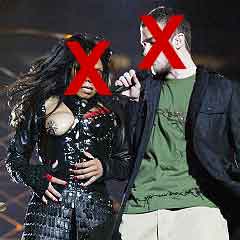 Ladies and Gentlemen: it is true we have to keep a level of decency on TV as to protect the youth of the nation. However, to harangue on a single breast – covered by a pastie larger than the average cheerleader outfit – nonexistent from the nosebleed seats and only a glimpse at home – an item seen almost daily by tyke, teen and adult alike in classic art or elsewhere – is ridiculous considering the content of the rest of the show, and the multiple advertisements for Viagra wannabes!
Besides, the game perked up after half-time.
Also, for FCC to go after this when they could be cleaning up the rest of the mess they made is absurd. It's their fault that MTV did the halftime show. Had Viacom not been allowed to own both CBS and MTV (along with Nickelodeon, et al), this incident would be a part of historical fiction!
Before I go, kudos to Aerosmith and Duran Duran for having the decency not to lip-sync during the pre-game show. It shows, hands down, that rock is better.
Kudos to Beyonce for no totally obliterating the "Star Spangled Banner." It could have been a little better, but it could have been a lot worse.
And kudos to the real stars: the commercials. They were very good this year.
Posted: February 3, 2004
/
Last Updated February 3, 2004