The Muppet Show: Season 1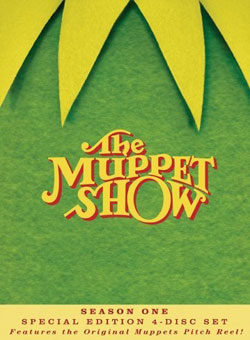 For years, when kid themed stations sporadically showed The Muppets, it wasn't all there. Any episodes from season 1 began with later season's opening montages (which is a shame, because Fozzy warmed up the audience before the show), and not all episodes were shown either (any star who faded from pop culture by the time of the re-airing got the boot). Rowlf's solos often got the axe as well. The list goes on.
Finally and at long last, the Muppet Show is being released to DVD – in order, uncut and sprinkled with Muppet flavored extras.
First, the shows: As I said, all there as Master Henson dreamed it. There's not much more I can say really. I mean, if you don't know what a Muppet is or how brilliant they've been the past 50 years, well allow me to pry that rock off of you.
But just think for a moment if you don't have a clue – the world's greatest entertainers were the guests on a puppet show.
Now on to the extras: The 4th disk contains the original bumpers and promos (labeled gag reel) and the pitch reel Henson used to butter up the egos of the network executives. It's a real testament to how much of a sicko he was. A good sicko.
But the real benefit of the extras is the often unseen Muppet Show pilot "Sex and Violence." Had the show gone down that alley, Nigel the band leader would have been the host, Sam the moralistic eagle his sidekick/foil and the show played out like a mixed up TV station rather than a variety show. What would it be like had that time stream took and Nigel was a famous as Kermit? The world may never know, but the pilot is just as good as the real thing.
Also on each disk, pop up facts about the Muppets and their guest stars.
All in all, a must have for any Muppet fan, bad pun fan, craziness fan or DVD collectors who like green felt covered boxes (a nice touch).
Posted: August 26, 2005
/
Last Updated August 26, 2005