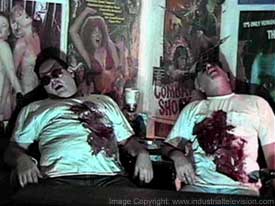 It's late on a Saturday Night. You're channel surfing, trying to find something interesting to watch. Then you hit upon Staten Island Community Access and find a couple of guys in lounge chairs heckling their television set. You have found Industrial Television.
The Premise
For over 7 years now, iTv has been a showcase for the bizarre, the sickening and the obscure. They have scoured miles of video tape to find the most eclectic mix of clips imaginable: from "Faces of Death" to early Fleischer cartoons to 1950's film reels about "special people" – and everything in between. Corny commercials, blood soaked drive-in trailers, good old Swedish porn – you name it, it gets aired.
The Execution
First they show a few trailers and commercials, then the short subject, and finally the feature. It's much like ye olde day at the cinema; however, with more beer and less popcorn.
Every once in a while there'd be interjections from the aptly named droogies – named after Alex's gang in A Clockwork Orange – the "hosts" and producers of iTv. A quick quip, a zany sketch, a puff of smoke or naked chick later the show resumes.
The show at times can be graphic. Well ok, most of the time it's graphic. There's a lot of material the FCC would have a field day with. Thank god for Public Access!
I myself have been known turn away, but that's just me…. I gasp for air if I look too long at the little diver in fish tanks, so you really can't go by me. However, it's nothing levelheaded folks ready for some fun can't handle.
And despite the droogies crass appearance, they treat their constituency well. Every year, iTv hosts a party for fans. Way to keep it real!
The Verdict
This is the perfect medicine for people who take life too seriously. It can possibly cure them, but most likely cause a deadly overdose… either way, problem solved.
iTv is a breath of fresh air. The droogies obviously are not afraid to go against the grain, and we need that. We need a show that'll challenge society and push the limits – iTv does just that. It's not for everyone, but you should at least watch it a few times before you make that call.
Obviously if you don't live neat Staten Island, NY, you're going to have a hard time finding iTv. However, there is a website – Industrial Television.com – where you can get a hold of tapes.
And I feel, in time, iTv will make its way around the country… if not in the original form, then in copycat offshoots.
Oh… right… the numbers: For being innovative, provocative and all that jazz like that it gets a 6 out of 6. And because it's shown during "grown-up time," I'll not take off points for corrupting the youth of America… it's too late for that anyway.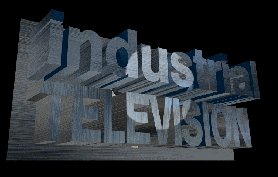 Posted: February 16, 2004
/
Last Updated February 16, 2004