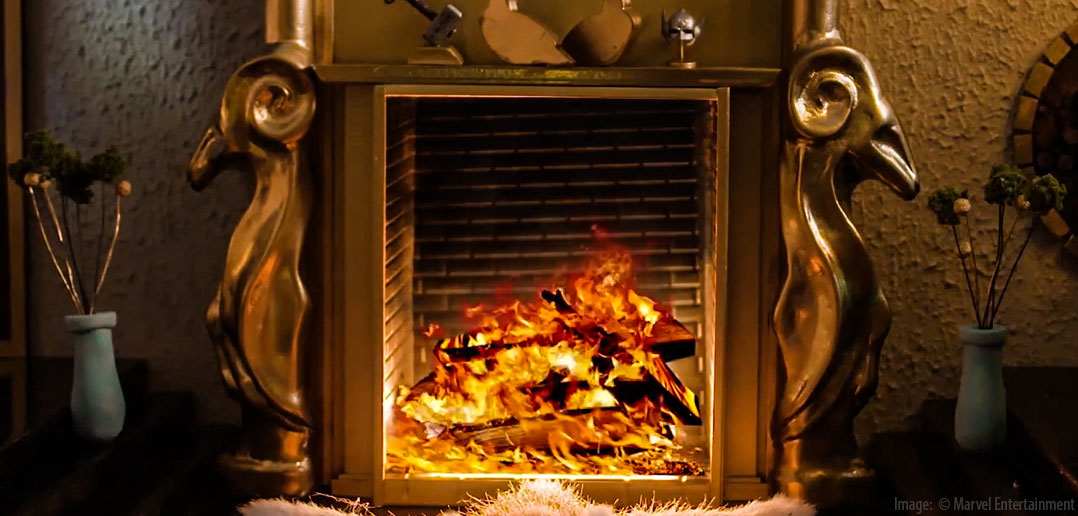 Heroic Hearths: Marvel Yule Logs; the Original Returns
MCU Themed Firesides
'Tis the season, and whether you celebrate a traditional all-American Christmas, or do something more other-worldly, there's nothing like opening presents in front of a crackling fire.
If you don't have an open hearth, Marvel Entertainment has you covered! Over on their Youtube page, they've be quietly releasing a bunch of hour long tableaux featuring your favorite hero's living rooms complete with roaring blaze.
So far they've got Captain America, Iron Man, Thor, and Ms. Marvel. Each having a full room shot (in 4k) and an up close shot to choose from.
They're even adding more as I write! OOOO! There's the Guardians, with a Baby Groot next to the… reactor core!? That's one way of getting him grown up fast.
Unlike your traditional yule log, there's no Christmas music. Obviously this lends itself to a more universal crowd… be you Christian, Mechanist, actual Nordic god, Muslim, or anywhere in between. Bring you own tunes, make it a new tradition… any time of year.
Ghost of Christmas Past
These Marvel Firesides are obviously based on the original video Yule Log tradition started in 1966, on New York's WPIX channel 11. And later they were simulcast in stereo FM no less! Ask your parents what a stereo was.
As a matter of fact, the footage for the first Yule Log had been found and will be rebroadcast on Channel 11 this (2016) Christmas day!
The master film contains two minutes of color footage, and the fireplace itself loops every seven seconds. PIX11 is thrilled the 1966 Yule Log has been found and restored, and will air as a one-hour presentation exclusively on PIX11 on Christmas Eve from 11pm to midnight, 50 years after its debut.
(full story) – HOT News! PIX11 to exclusively air long-lost original Yule Log from 1966
If you don't live in the NYC area, then they'll be streaming "live" Christmas day the 1966 version from 7-8am, and the 1970 edition from 8am – 12pm via facebook:
Can't access either, or can't wait? You can search Youtube for clips of logs throughout the years. I don't want to link directly because they tend to get copyright flagged and burned.
Happy Merry!
---
Sources:
Posted: December 15, 2016
/
Last Updated December 15, 2016