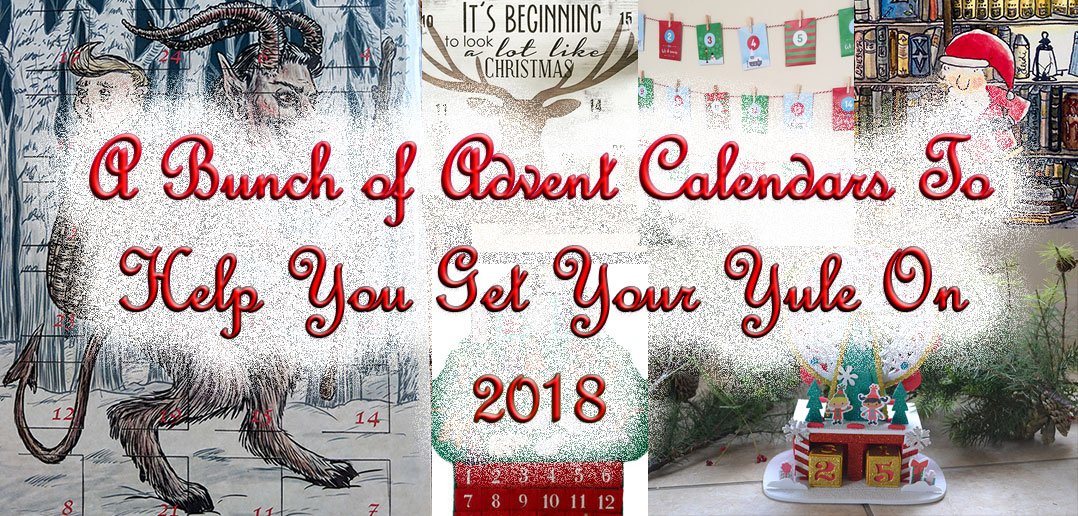 A Bunch of Advent Calendars To Help Get Your Yule On – 2018
Holly partridge in a pear tree, it's almost December! And I haven't done a darned thing. No seriously, I fell asleep last New Year's Eve and just regained consciousness now. Wasn't drunk, just bored.
So this year's list is gonna be a clip show from the last two years (2016 | 2017).
Due to the nature of these being handmade crafts, some other previous years items aren't around anymore. This year's list has gathered the ones still available (plus a few NEW! items – I'm not a complete lazy bones). Though, please do look through the previous years' lists, because many of those artists are still active and making neat stuff.
GOD BLESS CUT & PASTE!
Ashley R Creations out of Oklahoma has a rustic Christmas countdown calendar:
Advent calendars are a time honored tradition that allows you to count the days down to Christmas. Start a new family tradition with this re imagined advent calendar. This snowman has the classic top hat, coal eyes, and a carrot nose but his face is embellished with hand painted numbers. The nose actually moves! This means each day you and your children can tweak the snowman's nose into position taking you one step closer to the most wonderful holiday of the year!
Not a lot of description to go on, but cute nonetheless. ThePawClub out of Orlando, Fl has crafted a an intricate Christmas ferris wheel diorama out of foam, and the countdown/up are the two numbered blocks at it's base.
Also coming from France, and also in theme of mini gift boxes is French Melody's polar bears. The consists of 25 polar bear boxes of varying sizes that you'd put the daily candies or whatnots. The difference here is these are downloadable… where as all the others probably won't arrive before new years at this point, these can be printed and assembled in the comfort of you own home.
No, I said your home would comfortable, not the assembly. It's Christmas, some assembly is always required.
Oh look! An honest to goodness Advent calendar this time.
The Advent Calendar Library
comes from German Etsy store
YellowPapers
, and combines novels with noel as each door reveals a classic book title.
From Karl May's "Winnetou" to J.K.Rowling's "Harry Potter" to Bram Stoker's "Grad Dracula", well-known novels from all over the world are hiding behind the door.

This calendar is particularly suitable for bookworms, story readers, adventurers, older children who already know many books and those who like to rummage through the world of literature.
From TicTacTogs comes the classic Santa's beard calendar. Last year I mentioned why I like these, harkoning back to those 7-Up posters you'd get from… somewhere? Dinosaur Dracula went deep on the nostalgia in his article 7UP's Countdown to Christmas Posters!.
This one is a PDF download so you'll have to print it yourself, or visit your local reprographic specialist (print shop).
In America, Christmas is all bells and bows. Happy stuff. The only fate to befall bad kids is a lump of coal – and even then there are lobbyists trying to pass that off a a win. The rest of the world balances their merriment with monsters. Enter the BADvent Calendar by ThreeCatsDesignsArt of Seattle, Washington.
24 legendary Christmas critters lie in wait behind an etching of Krampus carting off some chubby, badly quaffed Germanic child. Gee, I wonder what he did to deserve that…
FreestyleMom has a rustic wooden peg board painted with a reindeer and "It's beginning to look a lot like Christmas." 24 hooks allow you to hang daily an ornament or some other holiday accouterments.
This shop has a number of other Christmas decor, like the honorable mention of "Merry Christmas Ya Filthy Animal," the classic line from that classic non-existent mobster movie "Angels With Even Filthier Souls."
VermontChristmas creates an array of adorable plush calendars, with days represented by cloth figures to be Velcroed to a corresponding scene (such as the Nativity or Noah's Ark).
Functionality is built into this "calendar" from Grantus Souvenirs. Once the Christmas morn wrapping paper storm is over, you've got built in storage! Ships from Lithuania. Also dig the laser-etched-wood coasters with the zodiac signs interpreted in Eastern European folk art.
So Christmas is all well and good with the Santas and the candies and the what-not. Shop FaffyTea has got a calendar set though that will inspire the youngins with the true spirit of Christmas… or at least get them off the naughty list.
This printable PDF project sets up 24 envelopes with 24 random acts of kindness to help end the year on a do-gooding note!
Cards include:
– Pick up a piece of trash from the sidewalk and throw it away
– Write an uplifting note and leave it somewhere for a stranger to find
– Let somebody waiting in line go ahead of you
They say it takes 22 days to make new good habit, 24 even better… all in time for resolution season!
Put a Bow On It
Well, that takes care of this year's Advent Calendar Count down. It happened in 2018, so it still counts as a yearly tradition! In the meantime I'll add "do something more than Christmas themed posts and prepare them in a timely fashion" to my 2019 resolution list. The blob about THAT'll be out sometime in 2021.
And to all a good night!
By the way
This post is not sponsored by Etsy or any of the Artists. BUT, my alter ego, RMLstudios, has a line of Christmas themed designs called YuleLife:
Posted: November 28, 2018
/
Last Updated November 28, 2018